Saal-Digital is known for their large product range and very reasonable prices. Saal targets mainly consumer and prosumer´s clients who are using their free software for designing and ordering – but it is possible to upload your ready designed photo book spreads and covers and place orders in their web shop.
If you use the coupon code "spreadbook" 20 Euros are deducted from your first order. We hope that this welcome present together with this guide compensates the glitches and hurdles in their ordering system.  Follow this step by step guide you should be fine…
A few important general tips regarding the photo-books from Saal-digital:
Do not apply any sharpening to the pictures which you intend to use in your Saal Photobook!
Saals developing machines are tuned in to produce crisp pictures and it is very easy that you over-sharpen your pictures. This is an essential rule that applies to all suppliers of traditionally developed books and is especially true for pictures taken with high ISO.
It is important that all covers and spreads you intend to order are 100% correct.
Our Rapid Album Designer will always create perfect printfiles when you export your design.
If you use other programs please make sure to export the following dimensions for your spreads, color-space should be sRGB:
Format 42 x 28 = 9992 x 3260 px
Format 28 x 28 = 6449 x 3260 px
Format 19 x 19 = 4527 x 2299 px
Format 12 x 12 = 2891 x 1469 px
You find the dimensions for the different photo-covers on their website: https://www.saal-digital.eu/service/professional-zone/#profi
 We suggest you to place an empty spread in the beginning and at the end in order to get nice end-sheets in your book!
At least let keep the left page of the first spread and the right page of your last spread clean!
Remember also that Saal places a bar code on the right side of the last book-spread and in the left corner of the covers backside.
For a handling fee of 5 Euros the bar code can be removed.
We strongly advise you to choose very light colors if you opt for a matte photo-cover.
Saal photo-books can be ordered with a very nice soft touch matte cover. This cover-option is a great way to differentiate these books from your normal "consumer book". Please notice that the combination of the matte cover and black/dark colors close to the spine is a very bad idea. Sooner or later the protecting outer sheet will show some wear, small air bubbles will show. These result in white marks in the spine. When you have a light color it is very hard to notice.  But with dark colors it is easy to spot the problem. Saal is not willing to replace books if this defect shows up, because the problem will reoccur.
Following this instructions will make sure that you will be happy when your order arrives at your door – so lets move on to the ordering system from Saal-Digital   and choose "Professional Zone".
Choose "Profi Upload":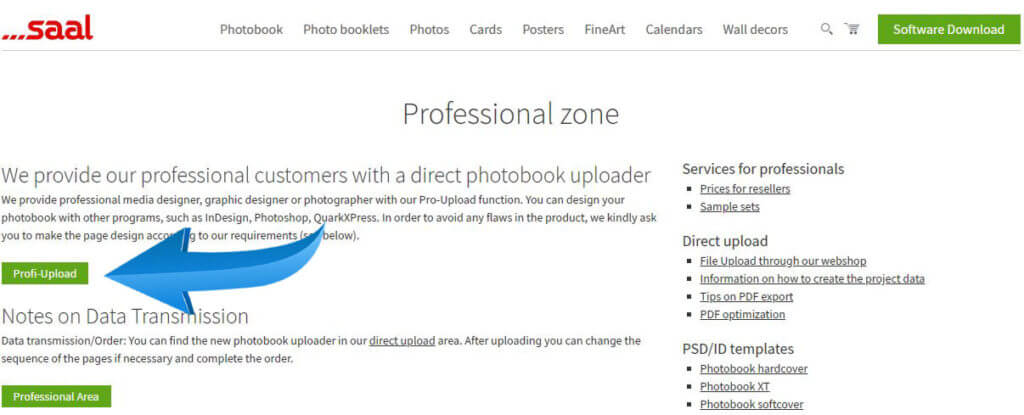 When the products in the web shop have finished loading, select the photobook you like to order:
Now it is important to choose the matte cover and also matte inner pages if you like to order the same album style as the one you got when using the spreadbook ordering system. Optional you can order a gift box and also get rid of the bar code. To continue press the green button "Design" (wich really should be named "Upload")…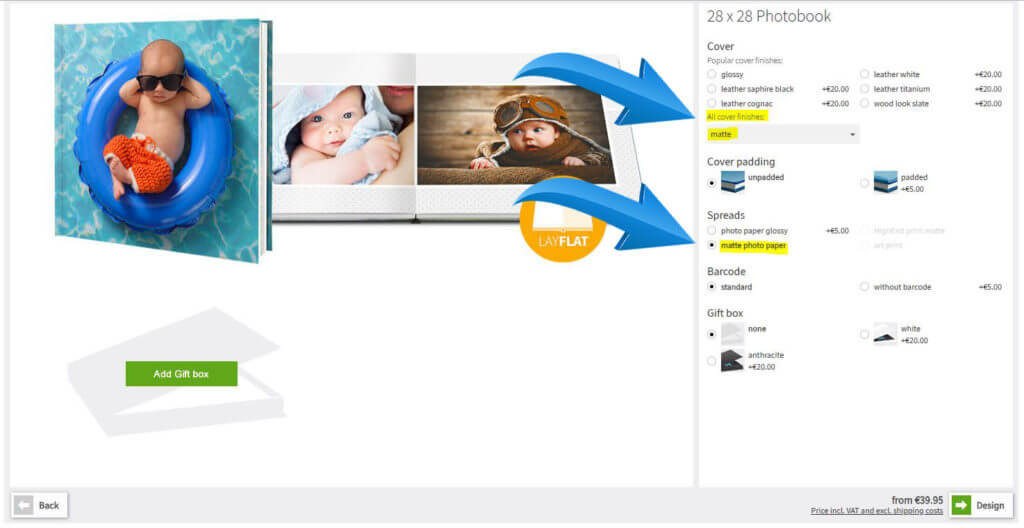 On the next page just press "PDF upload" and ignore all other options!
Click "all page count" and select the right number of spreads for your project.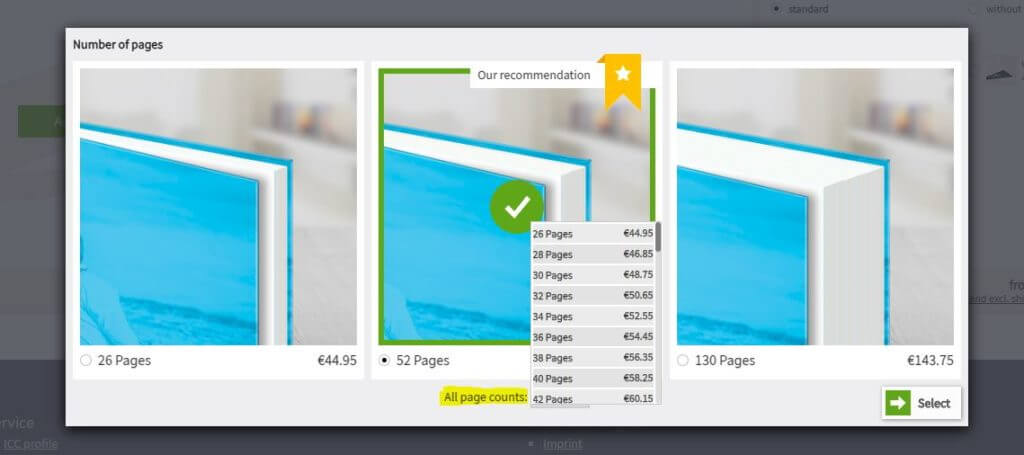 Now upload your cover and the spreads and click next:

While it is nice that one can preview and double-check the project on the next page, it is frustrating that there is NO OPTION to log in as a customer in order to save the shopping cart.
Saal presents now again the option to choose a gift-box and to get rid of the bar-code before placing the photo-book into the shopping cart:
In the next step finally your order ist placed in the shopping cart – where you can give it a name, choose the number of copies and decide if you want to continue to check-out, or if you want to order another product in order to save shipping cost.
But as I pointed out, it can be very frustrating if one has managed to upload and place several different albums in the shopping basket and just before the last product is placed – the site may be crushing. As you can see  the shop is not creating a special adress for your project – and therefore you would have to start all over if you accidentally close the window or if you experience problems with your computer or internet…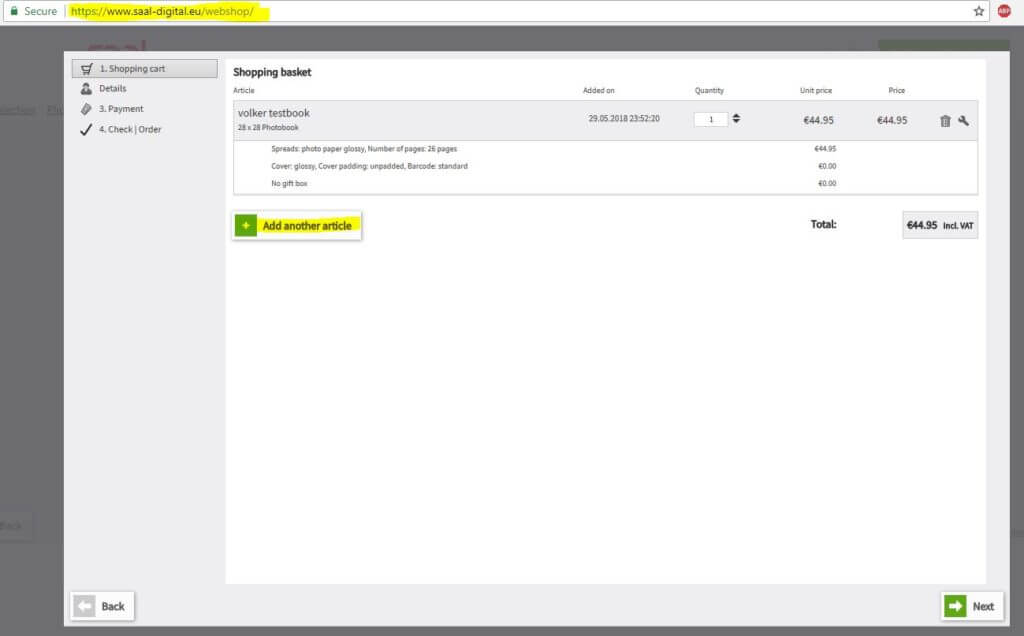 But lets hope that you managed to place all products in the cart without any problems – then you can just proceed to payment and checkout.
Until now there is also no option for Business customers to specify the international VAT number in order to avoid paying 7% German VAT.
Conclusion: If you like to continue to order the original Saal photo-books and need to upgrade them with the book-box, extra thick pages, leather- or linnen-covers and many more options then the "Direct Uploader" provided by Saal-Digital is an option – especially if you use special album design software like Smartalbums or Fundy when designing your spreads.
If you instead are looking for a simple and fast way to design, proof and order photobooks with matte inner pages and a matte photo-cover than you we recommend you to simply press "export" and select "send to print" after your client has approved the design in RAD.
The albums from Mercatomomento are identical in quality to the original Saal. If you provide your VAT ID when ordering they are similarly priced.
Only the shipping cost are a bit higher (20 Euros instead of 13) – so it is a smart idea to order several albums at the same time.
Either way, you will get inexpensive and very good quality photo-books wich are easy to sell to your customers!