Welcome to the new spreadbook.
Our goal is to to help you to sell more albums! By adding the "send to print" service we now offer free album-proofing and a easy ordering system also to photographers who are using alternative album-design programs. Close business-relations with top album manufacturers and profound knowledge about the production-process allows us to select the best photo-albums available and sell them under our brand on the Rapid Album Designer platform.
We start with the RAD Base  photo-books and will soon follow up with RAD Pack, RAD Premium and RAD Fineart.
You can find more information about the RAD Base albums here:
Ordering albums in our system is very easy: Check out the short video below, log in to your  account, choose the "send to print" option and follow a few simple steps.
The video below is in Swedish until it is possible to order from other countries than just Sweden. We aim to make this possible in the beginning of 2020. European based photographers with an valid European VAT ID can already place their orders in our system.
When you are logged in to your account you will see the Send-to-print option on the top of the page.

Choose the album size, give your project a name and click "create":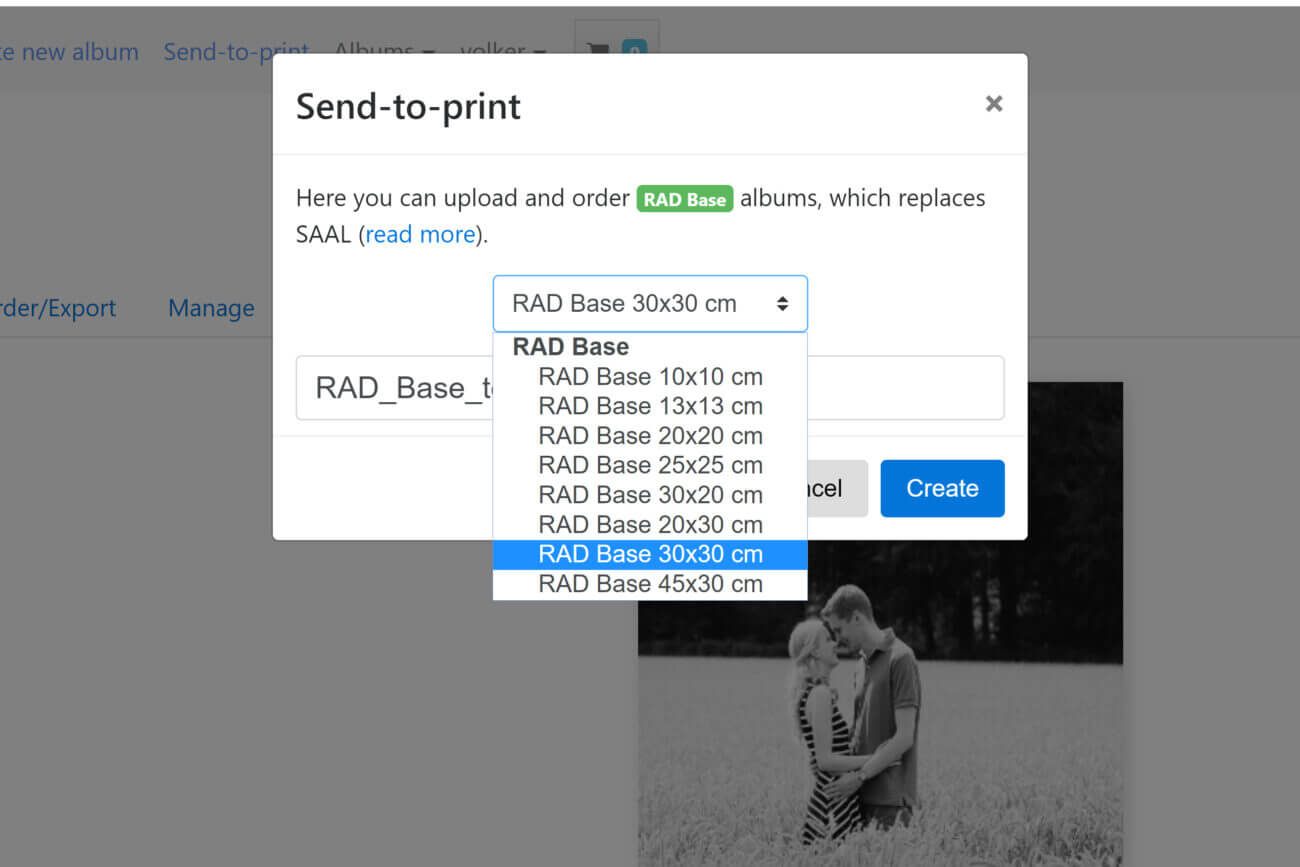 Upload your album spreads and a photo cover. We show you the exact dimensions in pixels for your chosen album size and strongly recommend that you only upload files matching exactly these numbers to avoid auto-resizing by our system!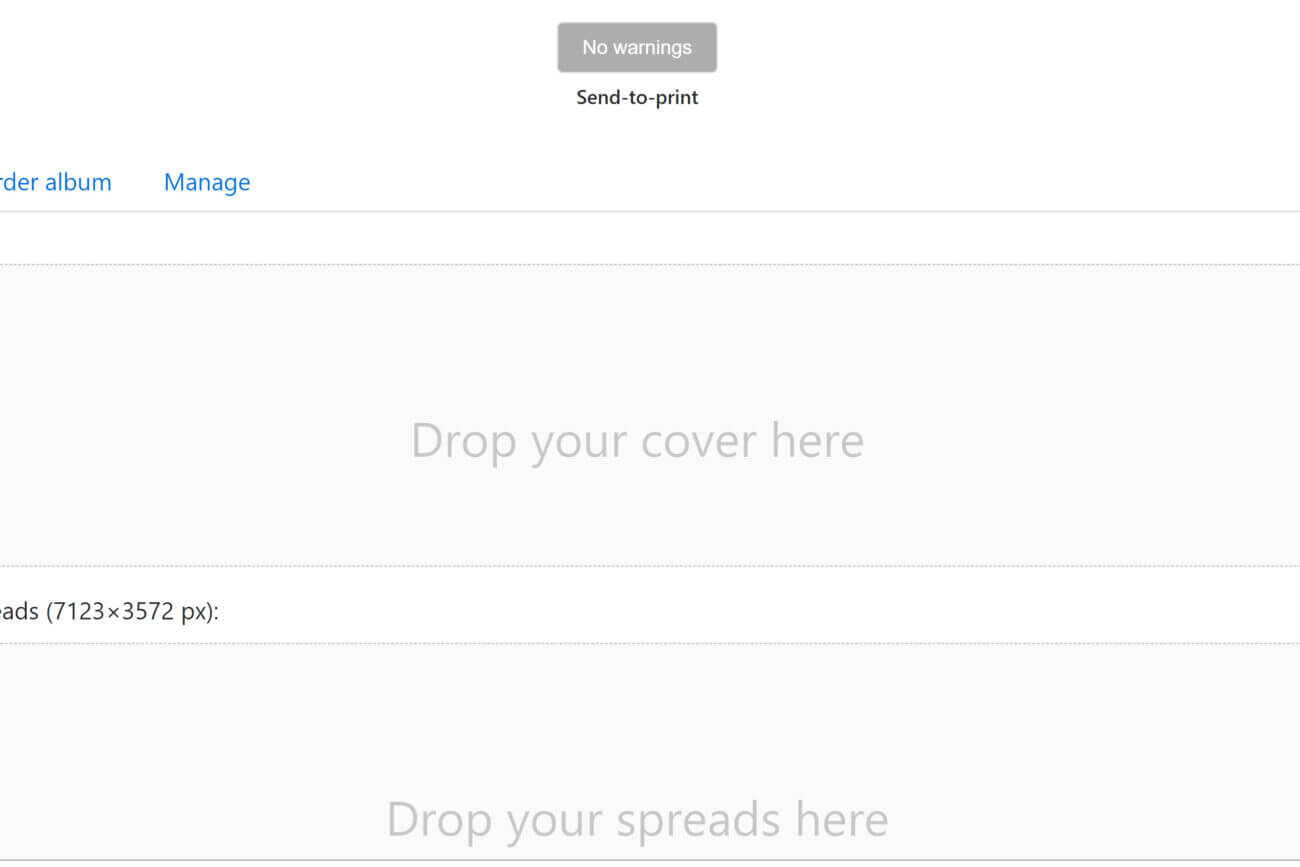 Depending on your internet connection speed and number of spreads, uploading the hi-res files can take some time.
If your files do not exactly match the dimensions expected by the album manufacturer we display the button  "UPLOAD WARNINGS". It is up to you to decide if you want to proceed with the ordering process – and let our system scale your files – but we advise against this option and take no responsibility in case the final product is not perfect! We feel that a professional should do everything in his power to deliver perfect files to the printer. Best practice is to export your spreads again and make sure that you put the exact dimensions for the cover and the spreads when you export in your editing program to avoid seeing upload warnings!
After successfully uploading your print files, you can send the album to your client for proofing or start the ordering process. We ask you to inspect your spreads carefully spread by spread before you can proceed.
This is your last chance to spot any mistakes in the design before your files are send to the printer!
We use PayPal as our payment provider. You also have the option to pay with your credit card without having to register an account with PayPal.
About 2 weeks after placing your order you will receive your albums. We stand behind our products and will always do our best to find a solution in case you should not be 100% satisfied with your album.
General info about all our photo-books:
Why should i offer Photo-books to my clients?
Because the way your work is displayed. A high quality photo-book, beautifully designed and filled with awesome images, will always have a bigger impact than the images presented on the screen (especially if the screen is not calibrated).
Do you offer discounts for sample albums?
Yes, we offer discount for all albums except the inexpensive RAD base
We ask you to put your studio logo and the word "Sample" on one of your spreads in order to make sure that sample albums are just that: samples. They're not to be sold to your clients, but to show your clients what their book will be like when they order.
Do you discount duplicate albums ?
No. If a client asked you to design two entirely different books, you would not offer a discount since you are doing the same amount of work twice. The amount of work and materials are identical no matter what the content is that get´s printed.
Are the spreads creased or split and cut?
We can't stand to see a beautiful design cut straight down the middle, so all our books are creased. Our albums are developed on Fuji Crystal Archive paper. If you're worried about pink/blue lines, Fuji is the best paper for this.  With that said, absolutely any kind of paper that is creased will show some wear… even split-spread books will wear in the crease because they're made of paper too.
It is a good idea not to place a face (especially eyes) right in the gutter of the page!
If you are very particular about the crease, we recommend not designing over the crease – or only use lighter colours over the crease.
Do you provide colour correction and retouching services?
We do not retouch or colour correct any of the files provided. Please make sure you soft proof your book files. We print exactly what is submitted. We may catch a mistake by chance and notify you but it is YOUR responsibility to make sure your files are as they should be.