The information on this page is mainly for our European customers looking for an alternative to the discontinued spreadbook.eu ordering system.
We put a lot of effort into making RAD the best album design program on the market. Our focus on optimising the sales process between the photographer and the end customer is what sets us apart from our competitors!  By adding  "send to print" we now combine free album-proofing and a easy ordering system to photographers who are using alternative album-design programs. We start off with the RAD-base book-line and will soon follow up with RADpremium and RADfineart.
The RAD Base photo-books replace the popular "Saal-albums" and feature classic developed matte photo-paper, lay-flat binding combined with a soft touch photo cover.
Ordering these albums is very simple. Log in to your RAD account and choose the "send to print" option.

Then just choose the album size, give your project a name and click "create":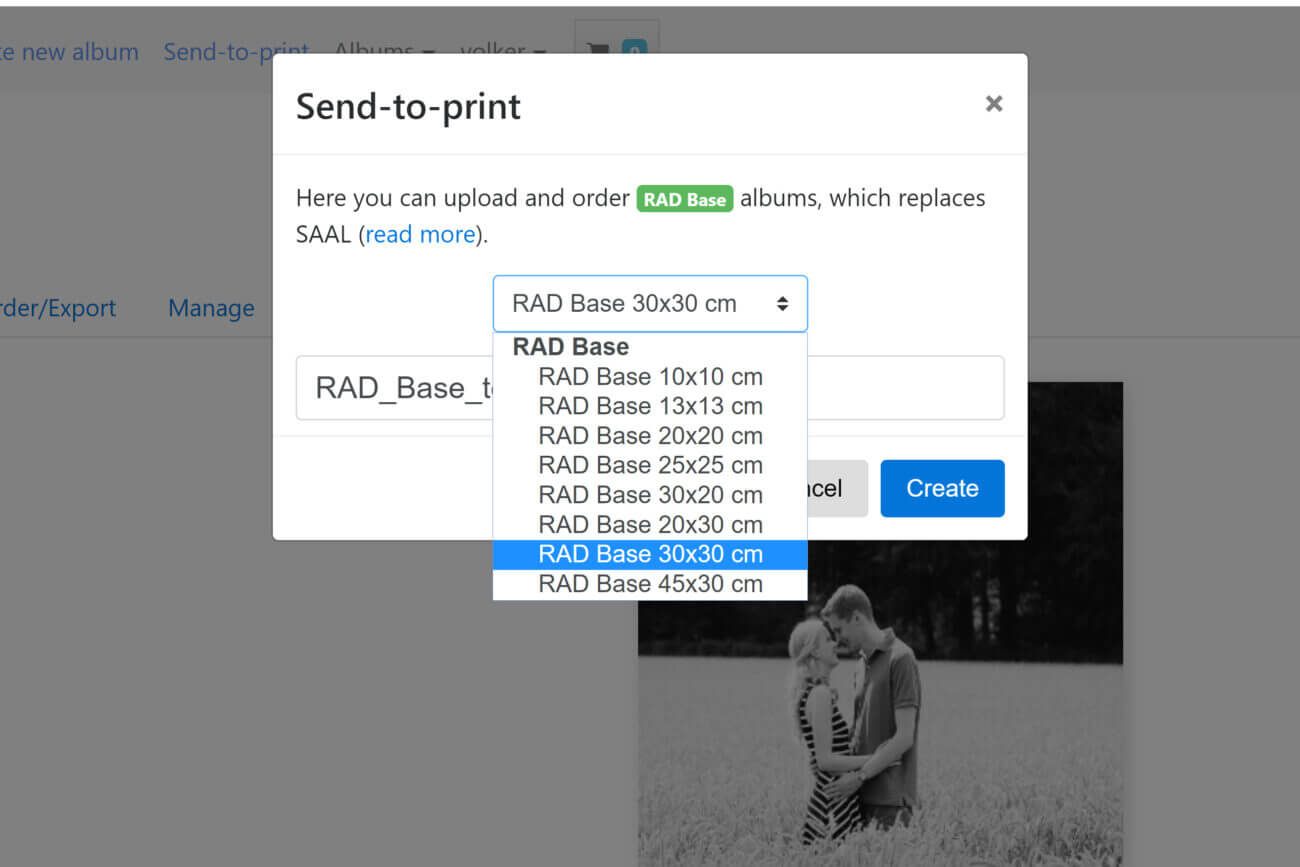 Upload a photo cover and your album spreads. We show you the exact dimensions in pixels for your chosen album size and strongly recommend that you only upload files matching exactly these numbers to avoid auto-resizing!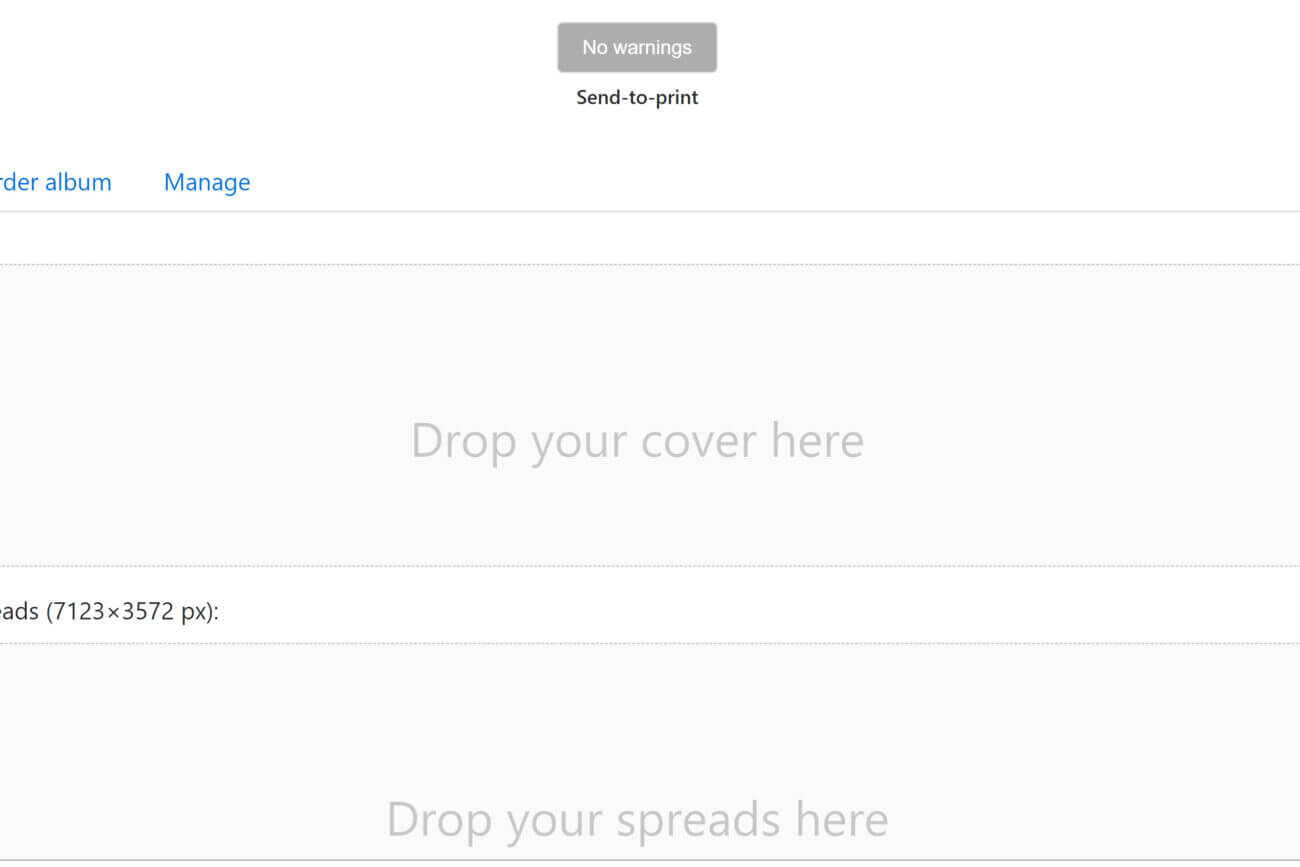 Depending on your internet connection speed and number of spreads, uploading the hires files can take some time.
In case your files do not match the exakt dimensions of the print files that the album manufacturer expects we display the button  "UPLOAD WARNINGS". It is up to you to decide if you want to proceed with the ordering process – and let the system scale your files – but we advise against this option! We feel that a professional should do everything in his power to deliver perfect files to the printer. Best practice is to export your spreads again and make sure that you choose exactly the right dimensions for the cover and the spreads to avoid seeing the upload warnings and the picture below: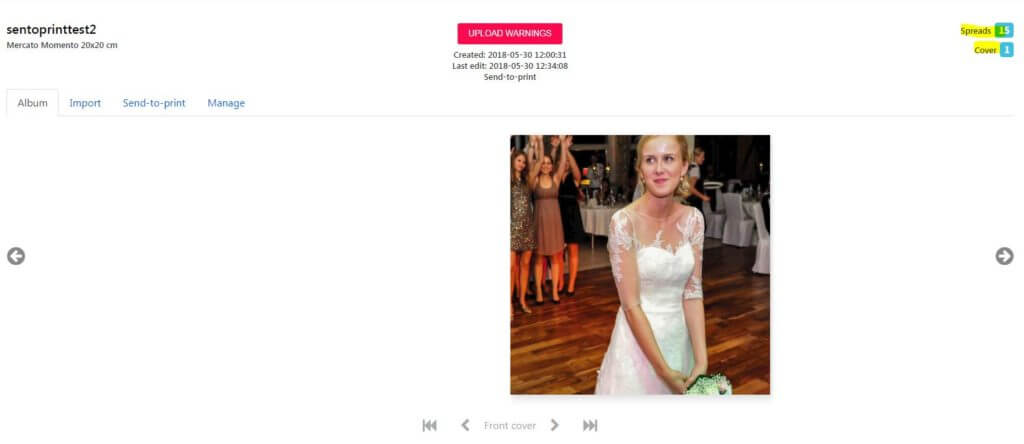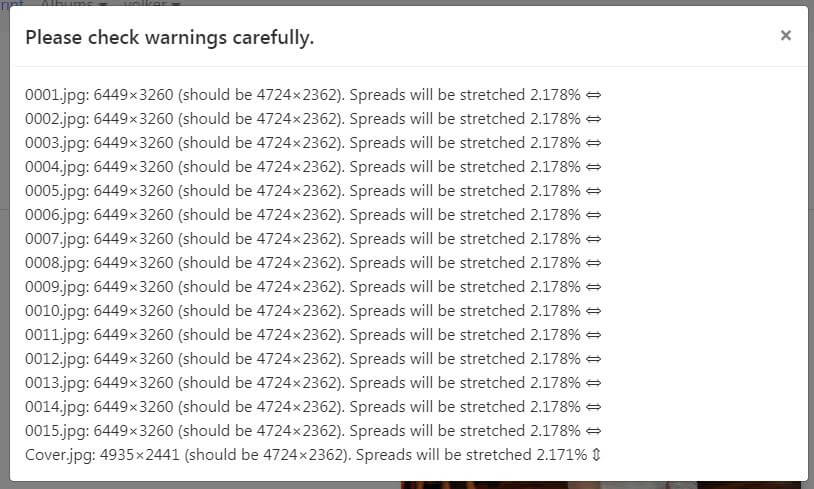 When all the files are uploaded please choose the sent to print tab and choose "RAD Base":
After reading the general information, confirm the size of your photo-book and press the "Export" button.
When the export process is finished you MUST click on every spread in order to double-check that everything looks exactly as you want.
After confirming your layout please close the proofing by hitting ESC or clicking on the cross in the right corner.
The last step to complete your order is to check your contact details, shipping adress, VAT number,  and the number of books you like to order. Within a few working days you will receive an order confirmation and payment details from Marton at Mercato Momento.  A few days after you have transferred the money  your products will arrive at your doorstep.
IMPORTANT: Until we have implemented a shopping & payment provider we have the agreement with Marton that he puts all albums ordered within a 24 hour period in one parcel. If you need to get in contact with Marton directly his e-mail adress is balogh.marton@mmplusz.hu.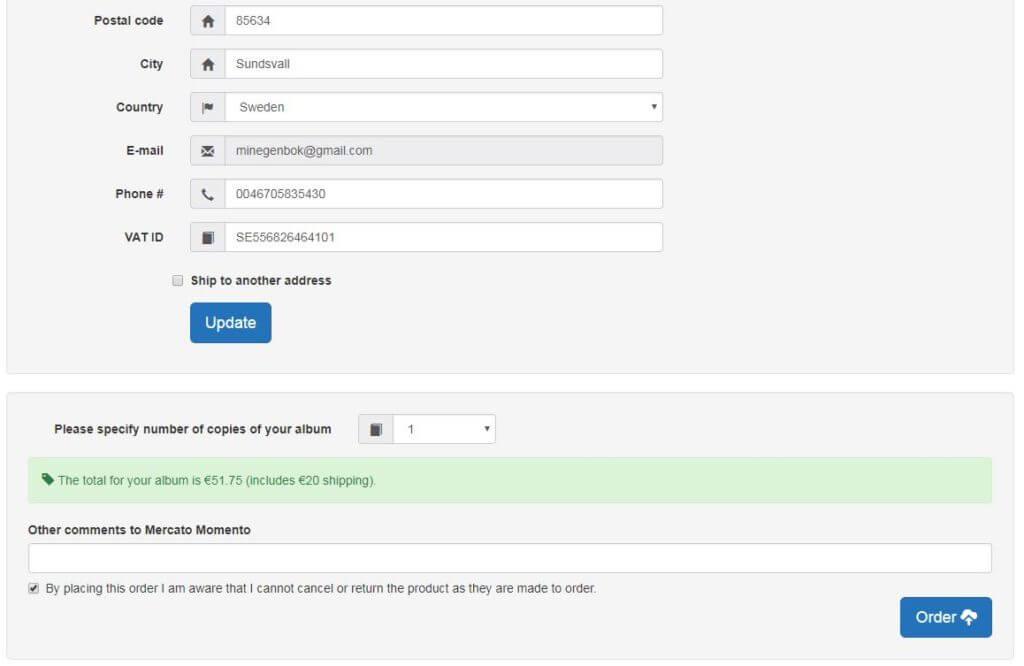 If you instead want to order directly from Saal-Digital then you can follow our guide here.