If you are a professional photographer, and just want a simple inexpensive album without compromising an inch on quality, the RAD Base albums are made for you! Many professional photographers include these photo-books in their basic packages. 
Traditionally developed om Fuji's special matte album paper, lay-flat binding, perfect colour reproduction combined with a matte soft touch photo-cover results in a beautiful product which is easy to sell to your clients!
Please read our recommendations further down the page how to get the most out of your RAD Base album before placing your first order!
The list below shows the net prices for the minimum amount of spreds, plus cost for extra spreads.
(The 13×13 cost 18,95 € regardless if you order 6 or 12 spreads and is the ideal choice if you only have a small number of good pictures from a photo session).
You have 8 sizes to choose from:
RAD Base 10x10  (2000x1000 px)  =  7,80 € (min 10 max 40 spreads). Extra spread 0,48 €
RAD Base 13x13  (3053x1535 px)  = 18,95 € (min  6 max 50 spreads). Extra spread 0,95 €
RAD Base 20x20  (4760x2400 px)  = 27,80 € (min 12 max 50 spreads). Extra spread 1,20 €
RAD Base 25x25  (5941x2991 px)  = 42,45 € (min 12 max 50 spreads). Extra spread 1,60 € 
RAD Base 30x30  (7122x3572 px)  = 44,90 € (min 12 max 50 spreads). Extra spread 2,00 €
RAD Base 20x30  (4760x3572 px)  = 33,20 € (min 12 max 50 spreads). Extra spread 1,80 €
RAD Base 30x20  (7122x2100 px)  = 33,20 € (min 12 max 50 spreads). Extra spread 1,80 €
RAD Base 45x30 (10665x3572 px)  = 66,60 € (min 12 max 36 spreads). Extra spread 3,40 €
VAT and shipping will be added and shown in the shoppingbasket before you order.
If you use Photoshop for designing your albums and need to convert your print files to the RAD Base sizes, please download the latest version of the Pro Album Designer plug-in here: http://photoshop-plugin.com/proalbum-designer-download.php In this version you will find the RAD Base albums included and it is possible to automatically resize your files.
Important Tips & Tricks for the RAD Base photo-books:
Only the small 10 x 10 have a production-number printed on the backside as you can see in the picture below, all other RAD Base Albums come without a bar code on the cover and last page!
We strongly advise you to avoid dark pictures on the cover, please use bright pictures and light colours instead! The Rad Base photo-books have a very nice soft touch matte cover. This special cover is one of the reasons that these books are different from your normal "consumer book". But please remember that the combination of a matte cover and black/dark colours close to the spine is a very bad idea!
Sooner or later the protecting outer sheet will show some wear, small air bubbles will show. These result in white marks on the spine. When the cover is dark it is easy to spot the problem, when you use light colours instead it is very hard to notice.
We are not replacing books if this defect shows up, because the problem will reoccur.
Here is a creative example how to design a nice cover:
Be careful not to over-sharpen the pictures which you intend to use in your photo-book! The developing machines are tuned in to produce crisp pictures and it is very easy that you over-sharpen your pictures. This is an essential rule that applies to all traditionally developed books and is especially true for pictures taken with high ISO!
We suggest you to place an empty spread in the beginning and at the end in order to get nice end-sheets in your book!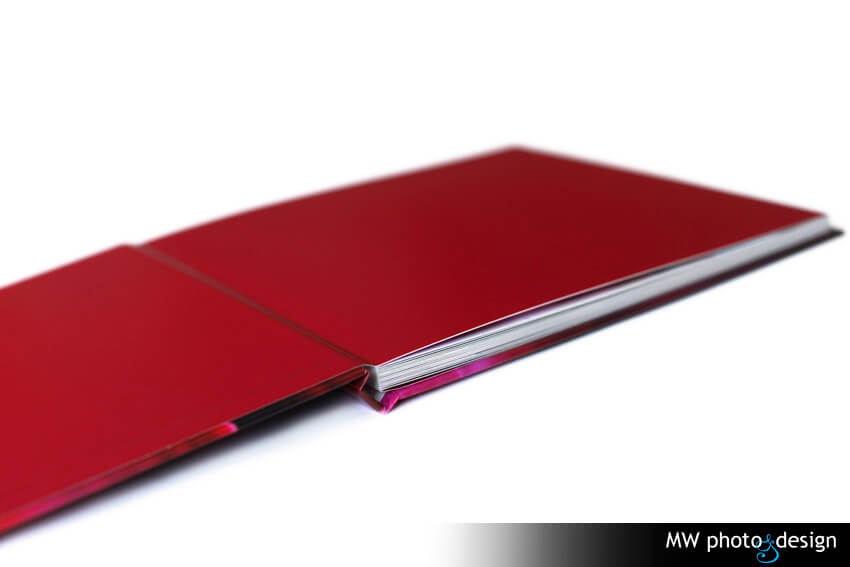 Even if no information is lost in the gutter, we recommend you not to place any faces – especially no eyes – exactly in the fold.